Just sometimes, you meet someone who leaves an indelible mark on your soul.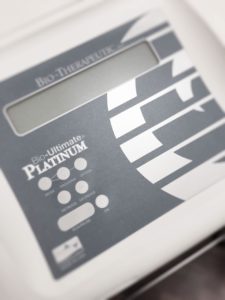 Would you like to enjoy an improved skin tone and the reduction of wrinkles and fine lines? How about increased firmness and elasticity? A firming of your jawline and eyelids? Reduction of Rosacea or Acne? All of this is possible. Plus the added benefit of increased collagen and elastin along with improved blood circulation. Results can be had without invasive surgery, discomfort, inflammation or downtime! It really is a beautiful way to treat your skin.
A microcurrent treatment plan initially requires a series of sessions (timing depends on your needs) to create and *hold* your result. The actual number of series visits will depend on a number of factors. Results are cumulative over time. Once we have the result we are looking for, a maintenance plan is determined to keep your facial muscles in shape and maintain your result. This can be once a month for some and twice a month for others depending on age and skin condition.
Younger skin can benefit from Microcurrent Facial Rejuvenation as well. This will slow the signs of premature aging, maintaining a firm and lifted look. For all skin, add to Signature Facial and the results will be boosted. Acne and Rosacea can also be helped using microcurrent techniques.
Turn back the hands of time and regain your skin's youthful smooth and firm look with microcurrent, a minimally-invasive service that gently stimulates, tightens and strengthens the facial muscles. Best results are achieved through a series of sessions, and once desired results are achieved, a customized plan is determined to maintain the skin's renewed condition.
Please contact me regarding series rates and to schedule this service.

Consider two treatments before the big day or night. One at two weeks prior and the second at two days prior. You'll love how you glow!